Tamagawa Onsen , Shin-Tamagawa Onsen


Akita Prefecture

Tamagawa Onsen and Shin-Tamagawa Onsen are hot springs located in Akita Prefecture's Semboku City. With hydrochloric acid as its main ingredient and with a pH1.05, they are Japan's most acidic hot springs. Even though Japan has an impressive amount of hot springs, each year many people come from all over the country to bathe in these springs. Known as "effective springs", many people are fond of these waters, which can be expected to help speed up the body's ability to heal and fight against all sorts of illnesses. They are also called "miracle springs" Tamagawa Onsen has two types of lodgings, one being the Japanese Inn section, which includes meals and the other one being the self-catering section where you can cook your own meals.

The exterior of Tamagawa Onsen

The outdoor stone sauna

The large public bath of Tamagawa Onsen
The History of Tamagawa Onsen
The hot spring was discovered in 1680 by a local huntsman. Since a deer was found tending to its wounds using water from the hot spring, it was called "Deer Springs" (Shika no Yu) at the time. In 1885, until it opened as a hot spring resort named "Shika Yu", it was used by hunters and miners who worked in the sulfur mines nearby. The area began to develop even more with the opening of bus routes and the national highway, and on September 3rd, 1959, it was designated a national health preservation hot spring as a part of the Hachimantai hot spring village.
The outdoor stone sauna
The large public bath of Tamagawa Onsen
The Characteristics and Spring Quality of Tamagawa Onsen
A type of hot spring considered rare all over the world, having hydrochloric acid as its main ingredient, as well as its high acidity, it also includes radium. Because it's also comprised of radium, it gives the result of low radiation hormesis and is able to help heal the body from illnesses. Aside from the 8 types of hot springs, there is an indoor stone sauna, as well as outdoor stone saunas where you can lie down and warm up your body on geothermic rocks and natural surfaces.
Tamagawa Onsen's Spring Source "high-volume discharge"
Spring quality

acidic spring, chloride spring

Effects

nervous system illnesses, blood pressure, and circulatory system illnesses, spinal cord type illnesses as well as cerebral palsy, anemia, leukopenia and skin ailments.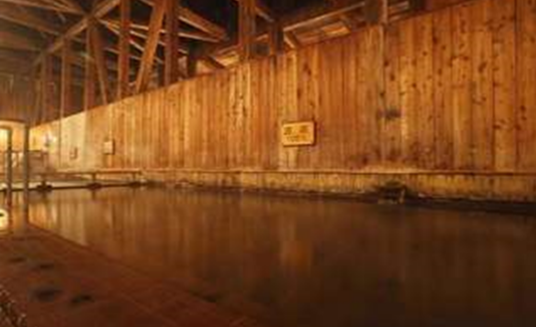 Bath with Water 100% from the Spring Source
Bath with Water 50% from the Spring Source
For those with circulatory ailments having to do with the heart or blood pressure, first, submerge your body in the water up to the mammary glands. Once you've gotten used to the temperature, soak your body up to the shoulders, then after up to your chin and ears.
Bath with Water 100% from the Spring Source
Because it is such a strong stimulant for the skin, the water is set to stay around a lukewarm 39℃. This bath is where one can expect to get the most benefits from the spring water, but you will feel a tingling sensation, and to that extent, it may be a large burden on your body.
The Warm Bath (Spring Source 50%)
The temperature of the water is kept below 40℃. This bath is recommended for those with high blood pressure and heart ailments.
The Hot Bath (Spring Source 50%)
This is a hotter bath with the water temperature kept around 43 to 44℃. The skin will be affected more because of the higher temperature. Please be warned that using this bath first thing in the morning or soaking for long periods of time will result in the increase of blood pressure and heart rate, and may cause thrombotic ailments such as heart attack and stroke.
Head Soaking Bath and Sleep Bath
Both are somewhat tepid baths kept around 40℃. They help increase the flow of lymphatic fluids and therefore are recommended for those with arteriosclerosis and high blood pressure.
Bubble Bath
This bath has bubbles in the water and the ultrasonic stimulus that they create when they burst in the water creates a massage-like effect, plus, with an abundance of minus ion, you can expect this bath to help work increase the natural healing abilities of your body.
Mildly Acidic Bath
Compared to the other baths that use water directly from the spring source, this bath is comparatively gentle on the skin and is recommended for those who have difficulty using the other baths due to sensitive skin, dermatitis or the like.
Waterfall Shower
Move your body slowly from top to bottom so that the water hits your neck, shoulders, back, and hips. Please be warned that if the water continues to hit the same place for a long period of time, because of the high pressure, it may result in skin irritation.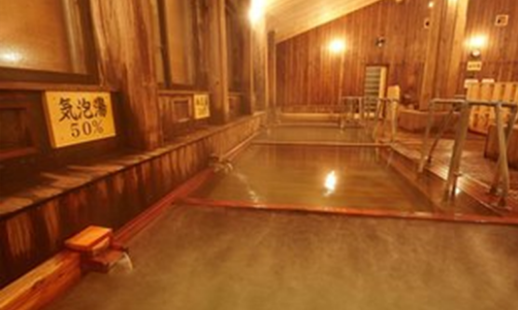 Bubble Bath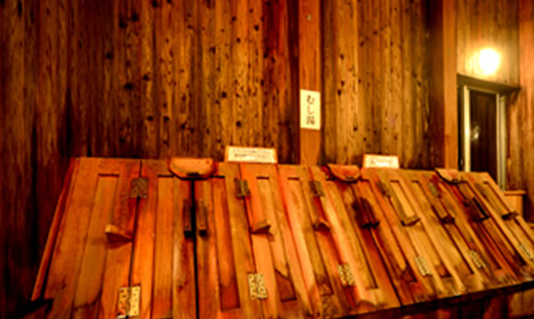 Steam Box Bathing
Steam Bathing・Steam Box Bathing
With a room temperature of around 50~60℃, the steam bath is like gentler version of a sauna. Box steam bathing is where you bathe your body in steam from the neck down. Taking slow, deep breaths and breathing in the steam through the mouth, may be effective for illnesses such as bronchitis, colds, and asthma.
The Indoor Bedrock Bath
The indoor stone bath is a place where you can expect to recover from fatigue and exhaustion.
The Outdoor Bedrock Bath
Choose a safe place that has terrestrial heat, spread out your mat and lie down. Please be careful not to get low degree burns. Because you may sweat a lot due to the geothermic heat your body absorbs, it is best to wear sweatpants or training clothes. Due to the temperature being cooler outside during the mornings and evenings, we will have something you can wear on top to keep you warm. As for footwear, sandals are best. It is recommended that you use a mat made from soft rush to spread on a rocky surface. Also, you will need to bring a drink to rehydrate yourself and a change of clothes, as well. A bag is necessary to put these items in and a backpack would be most convenient. Please keep in mind that we do not have rentals, so please prepare all of the things you need. You are also not allowed to use the yukata and other amenities provided in your rooms at the bedrock bath.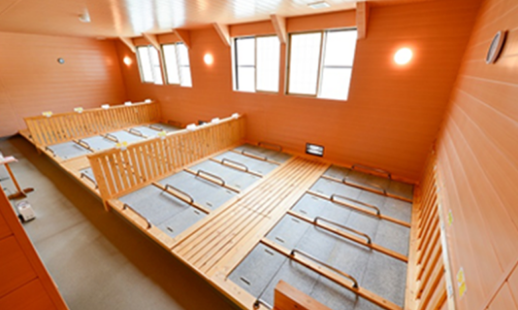 The Indoor Bedrock Bath
How to bathe in Tamagawa Onsen , Shin-Tamagawa Onsen
The best bathing method
Before entering the bath, please do kakeyu (pour the spring water over your body to accustom yourself to the temperature)
On the day you arrive at the onsen, it is recommended to use the bath 1 or 2 times and 2 to 3 times on the days after.
Do not stay in the hot spring until you get used to the temperature. After soaking for 3 to 5 minutes, rest out of the water for the same amount of time. Repeat this cycle several times.
When exiting the bath, do kakeyu once more to prevent irritation on sensitive parts of your skin.
After bathing, rest for 30 minutes while making sure you get drink plenty of liquids.
Use the onsen according to your physical condition.
Tamagawa Onsen, Shin-Tamagawa Onsen Cautionary Points
Tamagawa Onsen and Shin-Tamagawa Onsen are exteremly acidic hot springs, and therefore, the air in the area will have water vapor with high amounts of acidity as well. Therefore, precious metals changing color as well as delicate mechanisms breaking down may occur, thus it is not recommended to bring such items. When entering the baths please remove all precious metals. We are not held liable in the case of breakdowns or discoloration. In order to prevent the loss or theft of valuables, please leave them in the care of the front desk. Please note that we are not held responsible in the case of loss or theft. Tamagawa Onsen is a hot spring resort full of history, it is also an old building therefore some rooms are not equipped with toilets or TVs. Because this is a lodging that specializes in "hot spring treatments" and is different from general Japanese inns, we ask for your understanding and for you to enjoy the fundamental "hot spring treatments" we have to offer. As part of the process to protect the health of everyone using Tamagawa, Shin-Tamagawa Onsen, disinfection and sterilization are carried out at fixed intervals in order to prevent infectious illnesses, this is especially for the sake of those with weakened immune systems. Also, in order to thoroughly manage cleanliness, outdoor shoes are strictly prohibited inside the buildings. We understand that some of this may cause some inconveniences, but as fellow people seeking to improve our health thru the hot springs, let's do what we can to enjoy our hot spring experience while helping each other.