Osawa Onsen , Hanamaki Onsen Resort


Iwate Prefecture

Osawa Onsen is one of the 12 hot springs in Hanamaki Onsen Resort (Hanamaki Onsenkyo) and has lodges with a little-known hot spring located in the valley. It is known as a hot spring health resort from the past and is famous as it was loved by the famous Japanese poet and writer of children's stories, Kenji Miyazawa.
On the bank of Toyosawa River's clear stream are Sansuikan, an inn with a refined and modern look; Tojiya, an inn having a nostalgic atmosphere in a building built over 200 years ago with its antique tools and reception area; and Kikusuikan, with its thatched roof. continuing from the end of the Edo period. Here, a traditional Japanese atmosphere and a relaxing accommodation where people's hearts connect still remain today.
*Kikusuikan is currently closed.
Osawa no Yu and Toyosawa River
Entrance of Tojiya

Magaribashi Bridge

Example of a Sansuikaku guestroom
The History of Osawa Onsen
About 1,200 years ago, in the beginning of the Heian period (794–1185), Shogun Sakanoue no Tamuramaro, a hero of the city, was injured from a poisoned arrow during the conquest of the enemy from the east. Legend says that his injury was healed soon after bathing in Osawa no Yu. In the Edo period, successive daimyo (feudal lords) from the south used these springs. The poet and writer of children's stories representing Japan, Kenji Miyazawa visited these springs since his childhood days. The famous sculptor and poet Kotaro Takamura was pleased by Osawa Onsen saying, "It feels like an authentic hot spring." Mitsuo Aida, a poet of life known for creating simple poems with unique calligraphic styles, also visited the spring many times. The character "yu" displayed inside the inn was written by Mitsuo Aida, and expresses the "yu" for hot springs, the "yu" for hospitable evening meals essential in travel, the "yu" for fun times, and the "yu" for relaxation and elegance. The roundness of this character has a gentle appearance and reminds us of happiness, and expresses the goals of what Osawa Onsen hopes to achieve.

Illustrated map
Photo of Kenji Miyazawa
The Characteristics and Spring Quality of Osawa Onsen
Osawa Onsen has 3 lodging facilities differing in appearance and 6 baths. Osawa no Yu is the most famous bath of Osawa Onsen. It is a spacious and big mixed open-air bath located on the side of Toyosawa River. Sansui no Yu has a beautiful view of the mountains that appears to fit inside of a picture frame. Toyosawa no Yu is a gender- separated rock bath. Yakushi no Yu has retro-like tiles, and Kawabe no Yu is a women-only open-air bath. Finally, Nanbu no Yu is a gender-separated wooden bath. Many types of baths can be enjoyed here and it is a highlight of Osawa Onsen to visit and relax in several types.

Osawa no Yu
Osawa no Yu
Spring quality

Simple alkaline hot spring (hypotonic, alkaline, high-temperature spring)
*Simple hot springs contain many different minerals and means that there are no outstanding ingredients.

Effects

Nerve pain, muscular pain, joint pain, chronic digestive diseases, hemorrhoids, sensitivity to cold, bruises, sprains, exhaustion recovery, promoting health
Sansui no Yu (Sansuikaku)
The spacious, big public bath has a high ceiling and big glass windows and the open-air bath has a nice breeze coming from the river.
*Only for hotel guests of Sansuikan.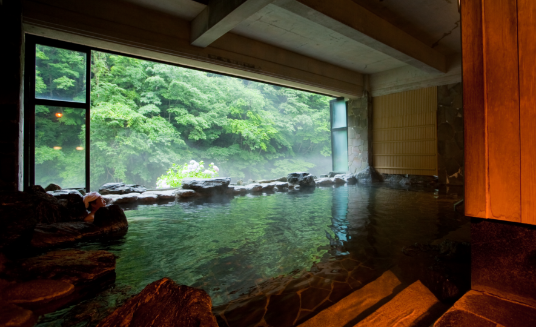 Toyosawa no Yu (Sansuikaku)
A gender-separated rock bath that has its glass doors open during spring to autumn to create a semi-open-air bath. Enjoy the beautiful landscapes of Toyosawa River.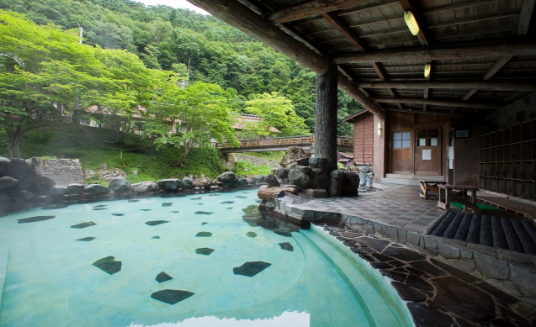 Osawa no Yu (Tojiya)
A mixed grand open-air bath that has a spacious feel and a beautiful outlook of the landscape. To answer the requests of women who would like to bathe without worry, there is also a women-only hour. Women-only hour: 8:00 p.m. – 9:00 p.m.
(Not available during summer time and when there are horseflies)
Yakushi no Yu (Tojiya)
An indoor bath with retro-like tiles that is known among the regulars for gradually and thoroughly warming the body to the core.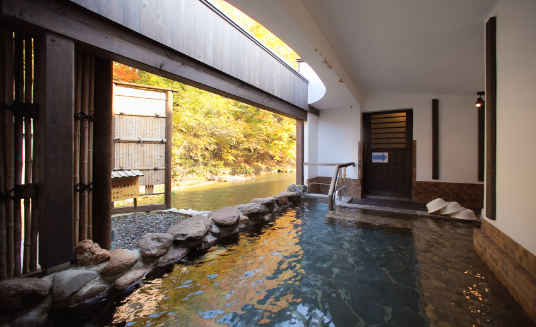 Kawabe no Yu (Tojiya)
A women-only open-air bath that has a view of the mountain stream and a secret bath feel owing to the abundance of nature and rustic beauty.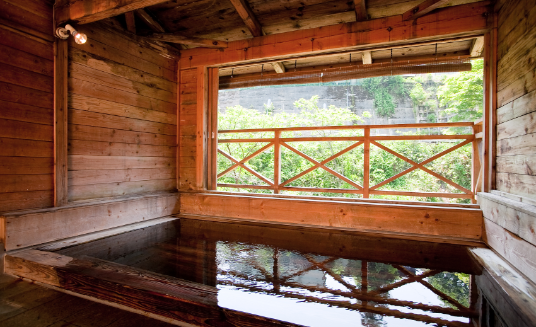 Nanbu no Yu (Kikusuikan)
A bath made entirely of wood to take advantage of its natural warmth. The glass windows are open during the summer so it becomes a semi-open-air bath.
*Kikusuikan and Nanbu no Yu are currently closed.
How to bathe in Osawa Onsen
The best bathing method
The appropriate amount of times to bathe is 2 to 3 times a day.
Start bathing in the hot spring for 3 minutes or up to about 10 minutes. Extend the time as you become used to it.
After bathing, take a rest for a while such as by taking a nap.
Avoid bathing right before or right after taking a meal.
Take extra caution after having alcoholic drinks.